Intern Return: Into the Swing of Things
By Stephanie Nguyen | Jul 2, 2010
More Articles by Stephanie
Currently embedded into my morning stream of thoughts:
1.     Set up computer
2.     Struggle with the hot water machine to make cup of green tea
(while trying to be discrete about it)
3.     Begin multitasking with long term and short term assignments
4.     Rinse and repeat
Yes, I've definitely got into the swing of things.  As my 4th week comes to a close as the Search-Mojo summer intern, I find in my treasure chest of tasks that I've been given a good mix of tasks to keep me on my toes. From helping to build a database of links to utilizing Google maps, I've been led into the jungle of balancing multiple aspects of the company each day.  I've wrestled with the notorious 404 error page and faulty URL 301 redirect links. I've begun to climb the sky-scraping mountains of social media and then realized there were miles of Twitter and Real-time Blog information to still conquer. I've begun free falling into the culture of Search Mojo's company culture by aiming to stay on the ball with #seo411 Tweet Chat topics while being open minded to opportunities of meeting C'Villians at local networking events downtown.

As an intern and an undergraduate student in college studying Digital Media Theory and Design, I can safely say I've only scratched the SEO surface. It should be noted that one frequent roadblock I bump into is a futuristically complex language which I call the "Sëårcħ Mõjø-Šeārch Ëngine ÔÞtimïzátiőŋ" language (note: markups were added for foreign effect). Every now and then in weekly meetings or in a Tweet Discussion on site maps, I'll furiously jot down key words and phrases that I haven't heard before. In my little yellow notepad, I've kept a record of some important keywords and rules that people not exposed to the SEO culture may not have run into before.  I'd like to share this perspective.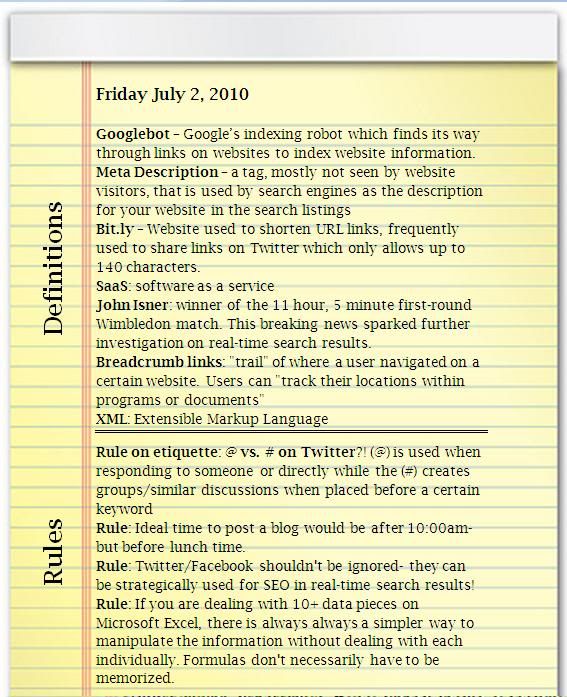 From an Intern's perspective, life at Search Mojo is handing me tasks at so many different angles of the company. Whether I'm independently researching a new topic or dabbling into the social media tasks of the day, I am learning and plunging into challenges that lie ahead.
Happy July everyone. Until next week!
Share this article