What Does Real-Time Search Mean for SEO?
By Stephanie Nguyen | Jun 25, 2010
More Articles by Stephanie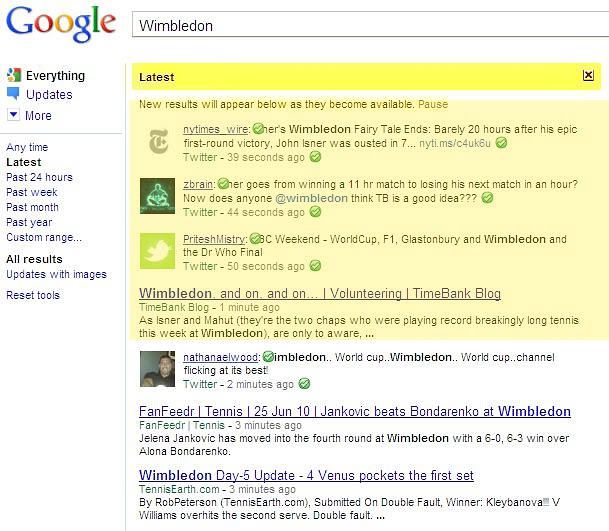 Finally! 11 grueling hours later, John Isner emerged as the winner of the longest match in the history of Wimbledon against Nicolas Mahut with a close 70-68 score.  As the news quickly spread, Twitter feeds were streaming in before they showed up on real-time Google web results. Why does this happen? Although Google wants to be the source for live, instantaneous news, it takes more time to put a blog on a website and then index it than to simply tweet it. The results showed up about 5 minutes later, but with Twitter's edge, their data publishes instantaneously.
Society thrives on finding the latest, most up-to-date information presented through search engines and social media. Both Google and Bing realized that people want the news as fast as it happens and created features to address the need for real-time search results. On one hand, Google emphasizes that their real-time results are built into the middle of the regular search page and they include the latest updates straight from news services, blogs, and social media. Alternatively, Bing showcases their real-time feed on a separate page and includes the latest updates from only Twitter and Facebook. Both search engines introduce another crucial component in the SEO world to which businesses must address.
So what exactly does the emergence of real-time search results mean for SEO?
There are several implications to the effects of real-time results. Since real-time results take the top of the results page, companies will have a harder time getting organic results to show up on a higher position. Some may choose to turn to PPC marketing because their results would be located right next to the top results. However, that is not the only option. Companies should monitor trending topics. They must utilize social media methods to participate in discussions and trends to continue thriving in the business environment. Businesses would benefit from collectively publishing blogs, creating a company social media account like Twitter, and focusing on optimizing on their search results. Whether you're keeping up with the latest sports, entertainment or technological feeds, real-time search results can help open the doors to breaking news seconds after it happens.
Until next week!
Share this article