Google Goggles. Cool Idea – But Not Even Close
By Tad Miller | Dec 10, 2009
More Articles by Tad
After watching the CNBC Special, Inside the Mind of Google, I was very excited to learn about a new product being developed for Android Mobile Phones called Google Goggles.  Google Goggles is a visual search tool that uses the android phone's camera as it's search interface.  As outlined by Android Central Google takes the following steps to return search results of objects that take photographs of with Goggles:
We first send the user's image to Google's datacenters
We then create signatures of objects in the image using computer vision algorithms
We then compare signatures against all other known items in our image recognition databases; and
We then figure out how many matches exist; and
We then return one or more search results, based on available meta data and ranking signals; and
We do all of this in just a few seconds
Google's video of how it all works is here:

Being the search geek that I am I set out to test Google Goggles around our neighborhood in Charlottesville, Virginia.  The results were a little disappointing.  But let's start with what works on Google Goggles.
Business Cards can be easily scanned by Google Googles and directly inputted into your contacts.  This is obviously a time saver.
Google Goggles can be used as a Bar Code Scanner.  I scanned a book's barcode and it pulled the ISBN number and numerous reviews and results of the book title.  I was also offered to see a preview of it in Google Book search.  Attempting to take a picture of a page of the book text didn't yield any results.
Artwork results are mixed.  A picture of This Mel Allen "Ullswater" poster pulled up nothing despite having over 500 Google Image results of the same exact photo:
But a shot of "The Conversation Prism" brought up perfect results:
Business Logos are also hit and miss.  For purpose of Google Goggles as a local search tool, it's spotty at best.  I took pictures of logos for the Charlottesville Pavilion and a picture of local Charlottesville travel .com company hotelicopter's window logo.  Both logo's can easily be found in Google image search results and both failed to yield any search results from Google Goggles.
Google tout's Goggles as a way to identify local landmarks, this is where it really falls down.  I took numerous photos of The Charlottesville Pavilion, The Paramont Theater, the Virginia Kids Discovery Museum's Antique Kids Carosel and The Lewis & Clark statue.  I even tried to replicate the exact angles of similar shots I found in Google image search results.  All of them came up with zero results.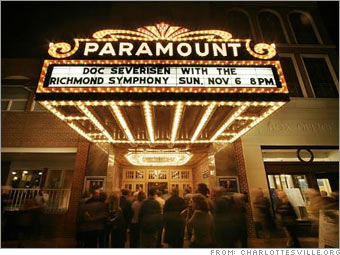 Google Goggles is also an Augmented Reality application that uses the Android phone's GPS capability to show you where local businesses are using overlays with Google Maps local listings.  Simply turn on your camera and Google essentially shows your where the closest local businesses are at.  This is also spotty, in that you can walk blocks past a a business and Goggles still places that business in front of you.
Because Goggles uses your phone's GPS capability it can cross reference your location to the businesses on its maps and local listings.  You would think that this would assist in improving image search results.  But, I used the augmented reality functionality to go to my local lunch time haunt "The Nook", double checked my location with Google Maps and replicated my camera angle with the image found in Google image search results for "The Nook" and it still gave me no search results.
Google does ask you to rate each search result on a 1 to 5 star rating to help them improve Google Goggles as a search tool, and unfortunately almost all my searchers were one star "Not Even Close".
Google Goggles could end up being a cool search application in the future, but for now it's something to play with and not depend on.  Local businesses could help improve or optimize their results for visual search in the future by taking pictures of their businesses, tagging the images with their business names and leaving them indexable on their websites and/or submitting them to photo sharing websites.
Share this article