Metrics Are NOT Killing Creativity in Web Design
By Tad Miller | Mar 5, 2010
More Articles by Tad
I sat down at my desk this morning and opened my daily e-mail from Ad Age News.  As I skimmed the headlines I immediately gravitated to "Why Metrics Are Killing Creativity in Advertising: Viewpoint: When Marketing Decisions Are Based on Numbers, We Lose the Desire to Be Creative" by Patrick Sarkissian of Sarkissian Mason.  I've never had the pleasure of meeting him, but our companies work together for a mutual client and I really like his team.
However, I can't resist whole-heartedly disagreeing with his premise.  He's absolutely wrong.  Because if anything it is the exact opposite and strangely the reality is he stands to make much more money in creating online by designing for improved metrics.
Patrick says in the article:
When marketing decisions are based on numbers, we lose completely the desire to "waste" time being creative. And heaven forbid we ever again just go with our gut feelings. Of course, I'm in no way advocating the death of metrics, just a different approach with creativity as the vanguard.

We are forgetting that brand preference is built on emotional connections. No measurement tool is going to change that. Period. What works are creative and strategic communications that seamlessly engage and interact with the target audience. Most important, it's big, new ideas — not crunched numbers — that remain in a person's mind long after the initial experience. They are what really make a brand stick with the consumer for current and future recall, and numerous case-studies prove it.
The reality is that we are in a new age of web design.  It is the age of Multivariate testing.  Multivariate testing is a process by which more than one component of a website may be tested in a live environment. It can be thought of in simple terms as numerous A/B tests performed on one page at the same time.  You can use it to ascertain which content or creative variation produces the best improvement in the defined goals of a website.  There are great tools available that allow this to be done on almost every website.  Google Website Optimizer is a totally free tool and an even more sophisticated tool that the client that Patrick and I share will be using in the immediate future is Omniture Test & Target.
These tools will actually require MORE creativity in design to be effectively used.  Design firms like Sarkissian Mason will now have to design multiple creatives to test and multiple layouts and color schemes of objects on the screen with multivariate testing.
Why would you ever want just a single creative idea to go with for your website, when you could have multiple creative ideas and test to see which ones meet the goals of the site and most engage searchers with the brand.  Doing so allows for designers to absolutely "Go with their Gut feelings" and prove to the client that they were right!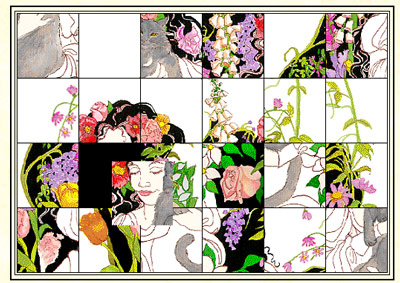 The days of sink or swim on a single design layout or creative are numbered.  From the perspective of layouts you almost have to envision site design like a sliding puzzle.  Multivariate testing will allow the puzzle pieces to fall into place with the creative that resonates the best with searcher and meets the goal of the site owner.  These decisions of creative direction of site design have been in the wrong hands for years. The site that best meets the end goals of the site owner for the USER is the site that works best.  Site users need to be determining this and web designers need to be designing multiple creatives to serve them – and yes they need to use their Gut and be experimental with new ideas.
There is no single correct answer for site creative, but the mentality has been for years that site owners have
to go with one idea and sink or swim on it.  This is the reason site testing and metrics have come to the forefront for business owners today.  Too many times businesses have sank on a bad creative or design layout.  We (Search Mojo) have made a business out of conversion rate optimization because too many designers went with the "cool factor" or put the idea of having a portfolio piece above the needs of the client to make money from their website.
The simple answer is that metrics should inspire creativity and not kill it.  More often the case is creative kills the metrics.  I will give Patrick credit for his commitment to his idea, he even changed the entire Sarkissian Mason site to try and prove his point.
They are masters of Flash web-design and do visually stunning creative with it.  It's an attractive, albiet sometimes dissorienting web site and the video supporting his point is funny.  But, the reality is that all of that Flash creative isn't even indexable by search engines.  In fact the only indexable content on the whole site says "You are unable to view our site without the latest version of Flash. Please download it."  The most important metric being missed on this page is site visits – that will not come because Search Engines have nothing to read.  The creative is apparently more important than being actually found…
These ideas are going to require that site owners drink the multivariate testing kool aid, and some aren't going to like the idea of leaving the decision about design and layout to the site users.  That content and creative is their baby.  The reality is what our friend Tim Ash uses as his mantra for landing pages "Your Baby is Ugly."  Admitting it and resolving to improve it is the first step.
If it were the age of sink or swim on a just single creative layout or design I would likely agree with Patrick.  The reality is that age is ending VERY SOON.
Share this article