Ask yourself "is it really worth it?" Is it really worth it to damage what could be a great reputation for playing the game fairly or are you OK with having that crowd of doubters who think (and maybe know) that you cheated to get where you are? I'm not. So I keep it white hat. Mind you reputation, it WILL follow you and if respect is a word that means something in your life, you need to be cautious.
I wonder if China will be wondering if it was worth it? Their gymnasts had a fairly decent showing in the Beijing Olympics but was it to the detriment of everyone else's Olympic experience? Some say it was. They won gold over other teams who also worked very hard to get there.
The minimum age for gymnasts to qualify for The Games is 16 years old. It's more than obvious that our 16 year olds and those from other countries are, how shall I say this… more developed up top and everywhere else. We all know what girls at that age look like. So when a kid who is several years younger tries to pass herself off as older, it's pretty obvious. The IOC has said it will proceed with an investigation of the Chinese "women" to verify their ages and eligibility. Do these look like "women" who are of age? Not to me.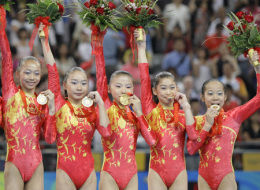 Now I bring this up because China spent more money than I can fathom on just the opening ceremonies and I wonder if after all the hard work and money, is winning gold medals in what is suspected to be a dishonest way, worth it? It's not just about the effort of those in the event in question, it's the efforts of those surrounding the entire process of pulling off a global event.
So the question is, if after everything you've done in your job. After all the hard work, will you respect someone who tries to buck the system and get great results while in the meantime possibly screwing over those who aren't cheaters? Is it true that cheaters never prosper? Well, I guess it's who you surround yourself with really that will ultimately serve as the judge.
Bela Karolyi, the former coach who crafted Olympic champions Nadia Comaneci and Mary Lou Retton, accused China of "dirty cheating" for fielding gymnasts he believes to be underage in the Beijing Games.

"Are we stupid or what?" Karolyi said in an interview yesterday after watching China's female gymnasts perform at the National Indoor Stadium. "They are obviously kids — 12 or 14 [years old], max — and you're telling the world they are 16? What arrogance!"
Success takes time. You must put your time in and listen to the masters of the business (or sport) and learn from their hard earned wisdom. If you don't, you could put it all on the line and you might never get back the respect you once had. Respect is supposed to be big in the Asian cultures as in any other culture, so what is so respectful about winning at any cost? I'm telling ya, it WILL follow you when you cheat. Maybe you won't see it immediately but people don't forget.
Our not-so-little SEO community may not say anything but if you cheat, it'll always be in the back of some people's minds. There may not be an official code of ethics but we all know right from wrong. Practice it.