The Curios SEO: Why I love StumbleUpon
By Catherine Potts | Jul 5, 2008
More Articles by Catherine
Why do I love StumbUpon? Because I can just click a button and be connected to random websites I would've had NO idea were out there on the internet. I stumbled up on (ha ha) StumbleUpon (SU) sometime in 2007 (I think) and every so often I give up my internet search time "to the gods."
What I find out is that there is a much larger world out there than I sometimes feel. So many things going on, so many people. It's really easy to get caught up in my little world and just forget to branch out. SU is a tool that helps me do that. Just like the time I was "stumblin'" and found out that pet turtles like to dress up for Halloween too:
We in the SEO biz spend many, many hours online reading and just trying to keep up with the trends. SU offers up a recreational feel to searching in addition to it's a good social media place too. For instance, I found this article about "How Social Networks Are like High School" without even trying. Btw, it's soooo true mmkay.
Quite honestly, I HAVE wondered how one learns to juggle… SU can show me how: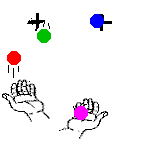 Who is behind SU?
In 2007 Ebay aquired StumbleUpon. According to Garrett Cam, co-founder and chief product offier for SU (other co-founders are Garrett Camp, Geoff Smith, Justin LaFrance, and Eric Boyd), said that not a whole lot has changed with the exception of Ebay's name to help in getting better deals for computer hardware (on the simple side).
Camp goes on to say:
From a product perspective, the core focus of StumbleUpon has not shifted to service eBay's needs. To date, an eBay-focused development effort to integrate StumbleUpon into its marketplace has not occurred, according to Camp.

"The No. 1 reason why we haven't made it a priority is once we go down that route [eBay integration], it will require a lot of engineering support," he noted.

"Right now we only have 20 engineers, and it would take half of them just to support eBay and we're just not at the size yet where it makes sense."
What is StumbleUpon:
SU is where a community of stumblers help decide what is good content and what is bad by using the thumbs up and thumbs down buttons on the SU toolbar. This is called collaberative filtering. Once you sign up for SU, you choose your preferences and those who with similar interests help decide the best or most popular content for those people who share the same preferences.
Now, admittidly, I can understand how someone might wonder exactly how random is it if you have preferences? Well, with that reasoning, perhaps not as random as if you'd not specified anything at all. But we all know what we like, so in keeping with that, there still are a lot of things you'd have never seen from all across the world. That's pretty cool and I've had some really good laughs and wondered why I didn't think of something first?! A lot of the content is very intelligent. People consider SU a social bookmarking site, but Campe doesn't quite agree:
"I hear social bookmarking or random Web pages, both of which aren't quite accurate," Camp said. He said the company's primary objective is content discovery, while bookmarking is a side effect.

"We could be social bookmarking, but that is really just a piece of it, just like tagging is just a piece of it," he explained. "They are just different mechanisms to support discovery."

Going forward, the goal for StumbleUpon is to remain focused on the core mission of content discovery while growing the user base. "My top priority is where do we get the next 10 times growth and how do we make that possible," Camp said.
You can choose to only stumble on images or videos as well. Some of the photography is quite breathtaking and some is very moving. Stuff I'd have never seen had I not been on SU. We all know those emails with the same images that circle the globe yearly (sometimes more). Same stuff. Boring! Well, the cool thing is that I get to see different things and it's not that hard to do.
The exposure to unique content does a good job in breaking up the monotony of the internet.
I'm not trying to sell you on SU, I'm just trying to say that this is a good thing in that collaberative filtering appears to have a positive result for me, the user, and I like that.
Share this article